Highlights & Features
MyBizCart E-Commerce Shopping Cart features
See a list of MyBizCart E-Commerce Shopping Cart features designed to empower your online success, save you more time and sell more online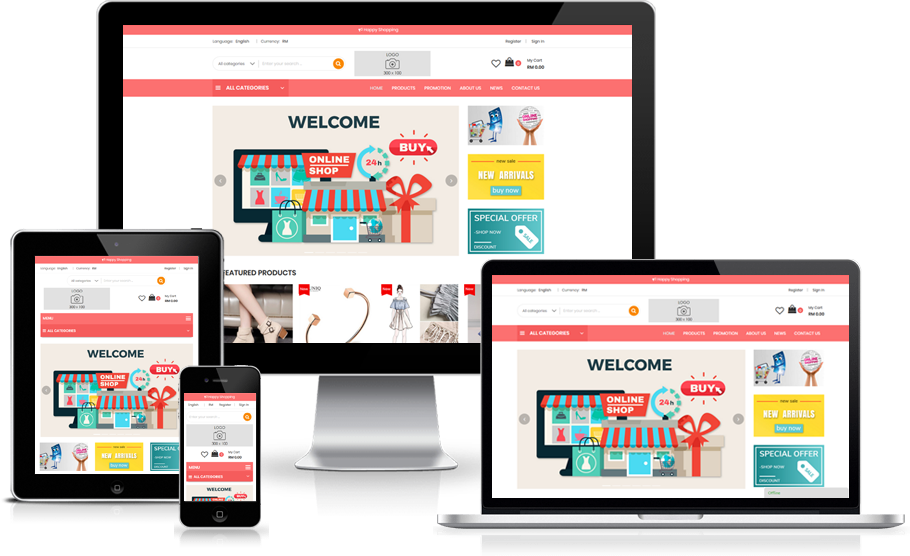 MyBizCart Shopping Cart works with Mobile and fixed-layouts sites to deliver a seamless mobile experience.
Please click here to view our new 2-in-1 Desktop-Mobile Friendly MyBizCart Cloud Shopping Cart.
Accepts Multi-Currencies :
Developed and Designed in Malaysia for the worldwide market, accepts MYR (Malaysian Ringgit) and international currencies. A multi-currency payment solution will help your business to expand by offering your product to customers worldwide. This will help your business to grow by leaps and bounds.

Supports Multi-Languages :
Pre-loaded with English, Bahasa Malaysia and Chinese (简体中文) languages. More languages can be added easily** – our solution is flexible and expandable.
**with Language Pack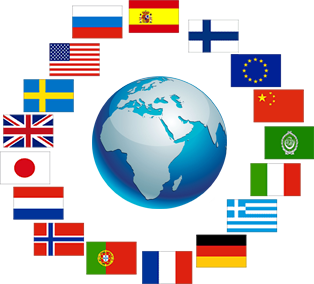 E-Keyword : Search Engine-Friendly :
Search engine friendly design with unique metatags for each product page. Easy insertion for Alexa and Bing's code at the Admin panel. This feature alone put you ahead of your competitors with our highly optimized shopping cart giving a huge advantage to in getting more traffic to your site, which can then translate into more leads and sales.
E-Payment : Seamles Integration :
No additional software or scripts needed to accept payments. MyBizCart has been fully integrated with popular payment gateways to ensure it is absolutely hassle-free to get paid from your customers. The seamless integration of MyBizcart with industry standard payment gateways enables you to accept Online Credit Cards, Paypal and FPX bank transfer payment easily.

Product Organization Made Easy :
Systematic product organization is crucial to both website visitors as well as website owner.
MyBizCart organized products are based on Product Category, Sub-Category, Brand, Size and Color for a more systematic product classification and quick retrieval to ensure this process is a breeze for all, both admin and website visitors.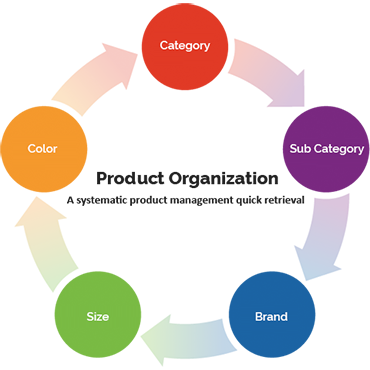 QuickTRACK : Order Status Update :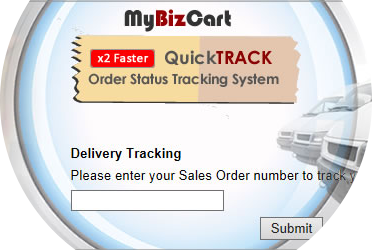 MyBizcart "QuickTRACKING" feature allows buyers to do self-checking on order delivery status using the unique order number generated by the system. This feature helps buyer to stay informed on the status of their purchases without the need to contact the seller via phone or email. This delivery status checking can be accessed 24/7 without the need to login to the system.
Multi Tier User with Multi Tier Pricing : End User, Member, Dealer :
System is capable of recognizing user level status after each successful login and display product pricing based on user levels that has been pre-set by admin beforehand.
Three (3) types of user levels include End User, Member and Dealer where each user level come with its own privileges and benefits.
In addition, MyBizCart also come with an in-built Member-Get-Member system – a referral system that rewards member for recommending the web store to others. This is a neat and powerful marketing tool to boost your sales!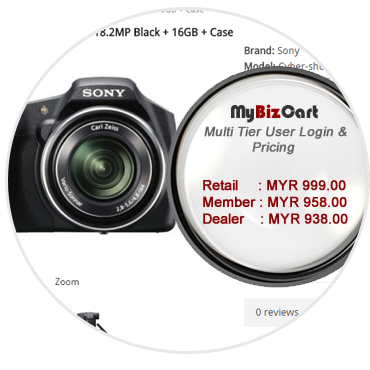 FlexiPROMO : Promotion + Use Voucher To Boost Your Sales! :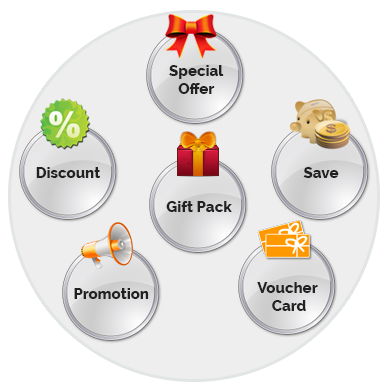 Having a variety of promotion strategies is the key to business success. Smart consumers are always on the lookout for better deals that give more value for their money. When combined with the right marketing strategies, businesses can expect more sales to be generated when they take advantage of the MyBizcart Promotion Mode feature. Admin can choose to enable the promotion mode of their choice which includes: Star Buy Product, Special Discount, Buy 1 Free 1 etc. Best of all, the promotion mode can be enabled for any product with just a few mouse-clicks.
Discount Vouchers are a great tool to help businesses increase sales. Everyone loves discounts. With the discount voucher, store owners can encourage their visitors or customers to purchase products at reduced prices. The discount can be pre-set and enabled for all products or selected products, even pre-set time periods (eg. Promotion period). The Discount voucher function is such an awesome and valuable tool for business to boost sales.
Built-in "Product Comparison" feature which is suitable for Electronic products, Phones, IT products etc – a single click to compare related products and see how each product is different in terms of its specifications. Product Comparison helps potential buyers make the right choice quickly and accurately by looking into the various specifications in an organized table format.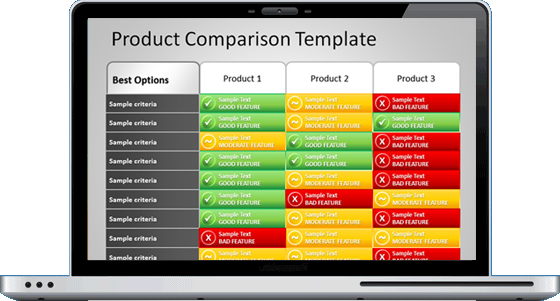 QuickFIND : Refined Search (Product Filter Techology) :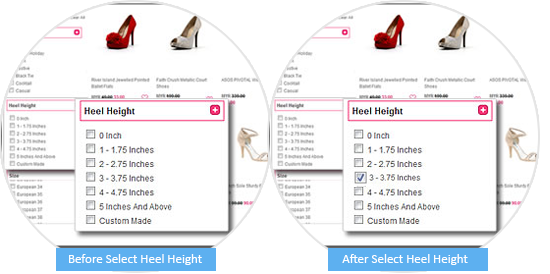 A normal search function in a website is not sufficient for consumers to locate the product of their choice. The searching process will turn into nightmare if the store has hundreds or thousands of items that are disorganized. With Refine Search, it saves users a lot of precious time by only zooming into products that meet their criteria. It's an absolutely time-saving and user-friendly feature which is very handy!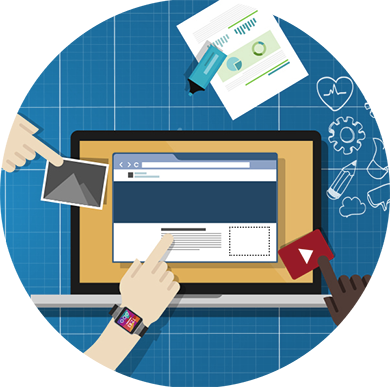 This feature is extremely useful for admin to update website homepage banners on the fly without any technical or programming skills.
Banner updates can be accomplished in mere seconds with point-and-click simplicity and it will be reflected immediately on the store website.
With this feature in place, businesses no longer need to outsource the updating of banners to third parties at an additional cost.
Reports come in very handy for business owners and management to know how their the business is doing. Full reporting includes: Monthly Sales Report, Product Report by Top Sales, Top Viewed and Top Enquiry.
The reporting also includes charts to better illustrate statistics generated from the reports.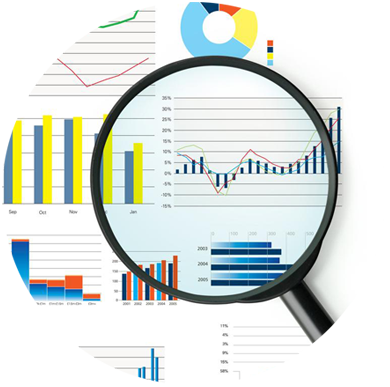 Supported Payment Gateways :
New Design New Features Version 6:
Website Template Option: Preloaded with 5 homepage template to choose
Low Stock Alert: Receive email alerts when the stock is running low
Site SEO: Help to maximize website visibility on search engine page
Birthday Voucher: Get birthday voucher when your customer birthday is approaching
Newsletter Subscription Voucher: Sign up the newsletter and get a discount voucher
Google+ Login: Customer login with their Google account
Instagram Feed: Display a photo from the Instagram account
Whatsapp Messaging: Enables website visitors to begin the chat with you easily
Announcement Bar: Display a custom message above your site
Message Box: Let customers leave special instruction
Note: Some of the above function available in Premium Version only.